Coral Wetsuits
Coral wetsuits offer a wide range of commercial wetsuits, surfing wetsuits, fishing wetsuits, triathlon wetsuits and wetsuits for kids.
If you are interested in either a standard sized wetsuit or even a custom wetsuit, have a look at their website (www.coralwetsuits.co.za) and then contact us with what you are interested in and we'll arrange a referral discount for you.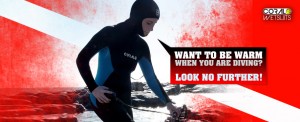 Coral Wetsuits have been active in the South African market for 17 years and are proud of the fact that they manufacture their wide range of activity specific wetsuits in the Cape Town based factory.
Coral Wetsuits initial introduction into the market was Scuba based. Over the years their products have been constantly improved and upgraded by their in house design team so that all combinations offer comfort and warmth for all types of Scuba experience.
The commercial wetsuits are manufactured from Small Diamond and Black Diamond neoprene. They are the ultimate wetsuits designed to meet the rigorous demands of a professional divers work environment.
Their Triathlon wetsuit, the Benguela, combines an excellent balance of flexibility, buoyancy and hydrodynamics to enable full potential on race day. For a perfect fit all the triathlon suits are custom made.
A very popular addition to the range is their adult mens and ladies Surf wetsuits – the Quantum and the Betty. Comfort, fit and warmth make both wetsuits essential items for surfing enjoyment.