Safe Shopping
Caching.co.za accepts 3 methods of online payment for South Africans and PayPal for International payments.
South African Payments
Electronic Funds Transfer (EFT)
This is the typical bank payment method using your bank's online facility. It generally takes 1-3 business days for a payment to reflect in our account.
Depending on which bank you use, payments made on a Friday may only be processed on a Tuesday.
FNB and Nedbank provide a verification service which will confirm payment receipts and allow us process your order sooner.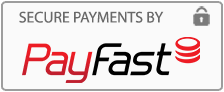 Please note: Only order amounts of between R5 and R8500 will be accepted when paying with a Credit Card
Payfast is our SECURE Payment Processor partner which you can use to pay us by either Credit Card, Instant EFT or bitcoin. No credit card or banking information is stored by Caching.co.za.
Below are the payment options available within the PayFast method of payment.
Credit Card
To pay using Credit Card, select the PayFast option during checkout.
Credit Cards are well known and a de facto online payment method the world round. We process local and international credit cards, with a variety of fraud protection mechanisms in place.
Benefits
- Ease of use
- Receive local & international payments
- Built in fraud protection
To pay using instant EFT, select the PayFast option during checkout.
Instant EFT is PayFast's patented, revolutionary method of completing online purchases by making an internet banking transfer (EFT) which gets instantly verified. There is no two day wait, you don't need to send in proof of payment and it can be used with South Africa's four biggest banks: ABSA, FNB, Nedbank and Standard Bank. Instant EFT puts you in touch with the large number of online shoppers without credit cards but with access to internet banking.
- Clears immediately; no two day wait
- No proof of payment required
- No delays during checkout
- Works on all browsers and platforms
The app is both convenient and safe! Whether you're buying your first coffee for the day, visiting your favourite weekend market, grabbing a drink with friends or getting a taxi home, SnapScan has you covered. With over 14 000 merchants already signed up, you'll never have to carry your wallet around with you again!
Carrying your cash and cards with you is also risky, while SnapScan keeps your card details encrypted safely on your phone. Cash can be stolen, your card can be cloned and all your money withdrawn at an ATM, but with SnapScan you have both a phone PIN and an app-specific PIN protecting your details. See Safety & Security for more details.
International Payments

All international payments will be requested via PayPal and charged in US Dollars. The dollar amount will be calculated using the currency converter http://www.xe.com .